TeeVax is proud to offer countertops from leading manufacturers, with an emphasis on style and quality. We know many clients have a particular preference for color and material when it comes to countertops, which is why we offer a cornucopia of products from Corian®, Cambria, Hi-Macs, Caesarstone, Silestone, Wilson Art, Formica, Living Stone and Zodiaq. Our skilled designers will help you coordinate the color, style and material of the new countertop with the cabinets and appliances! From new countertops to a total kitchen remodel, the staff at TeeVax are here to create the kitchen of your dreams.
DuPont Corian® is a fantastic option for your kitchen countertop and island. With a vast selection of colors and patterns to choose from, these countertops seamlessly fit with everything from elegant simplicity to farmhouse country kitchen. Best of all, it is non-porous and easy to clean, making Corian® an easy choice for your home.
Cambria
For a gorgeous countertop that requires no sealing and polishing, TeeVax brings Cambria® to the North Bay. Cambria® is proudly made in America from top quality natural quartz, resulting in a stunning and robust product. It's maintenance free, and only requires a soft rag and warm water to keep your countertop spotless!
Are you committed to ecofriendly materials in your home? HI-MACS® is an affordable, quality acrylic surface that meets standards for environmentally sensitive products, such as GREENGAURD Certification®, and ideal for use in the home. Additionally, they are guaranteed for any manufacturer defects for 15 years after installation.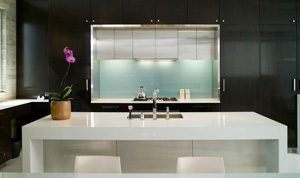 The consummate modern kitchen surface can be found in the Caesarstone® collection. For two decades, this brand has established a new bar for innovation and craftmanship in stone, and they continue to set styles in the business. For example, 97% of the water used in manufacturing is recycled. Not only are these stones sophisticated and beautiful, they are made in a way that favors environmental and sustainability standards.
With more than 90 colors, 3 textures, and 4 styles available, you are sure to find the right fit for your kitchen or bathroom with Silestone quartz. The countless options mean that you will find exactly the quartz countertop you're looking for. This ability to customize is matched with quart's natural durability to make a superb surface.
This American business has been producing high quality laminate for over 60 years, and continues to be an industry leader in counter surfaces. Wilson Art has a large assortment of offerings, but whatever countertop you choose, you can be sure to get designer quality. No matter your budget or personal aesthetic, there's a Wilson Art product to suit your home.
You've probably heard of Formica®, the premier laminate brand. What you may not know is that Formica® offers a wider selection than ever before, including solids, graphic patterns, and a variety of finishes. This wear and impact resistant laminate has been popular in American homes for decades. Find the perfect durable surface for your space.
Looking for a high performance acrylic surface? All of the 54 colors carried by LivingStone® have been specifically selected from market research of best-selling colors, so when you pick a LivingStone® countertop, you can be sure that not only will you love your new surface, but family, friends, and guests will too!
Another DuPont product, Zodiaq® quartz bring natural beauty to your kitchen or bathroom, while delivering strength, heat, and scratch resistance. Zodiaq® allows you to have the organic exquisiteness of quartz without having to worry about the stress of everyday wear and tear on your countertops. This beautiful countertop is also GREENGAURD Certified® as a low-emitting material, making it optimal for indoor settings.